My 2013 Houston Astros season preview, in one easy-to-understand graphic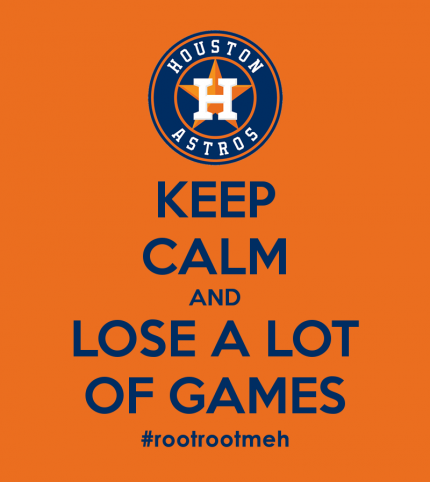 Do I think they'll set the major league record for losses this year like a lot of media folk around the country do? No.
It wouldn't surprise me if they ended up around the team-worst 107 or 108-loss mark again though. And ended up with the worst record in baseball. Simply put, the Astros are still terrible and they're going to be bottom feeders for another couple of years. But at least they've reached the point where they're building instead of just tearing down. I mean, I guess they have. I don't see what else is left to tear down.
I'm not happy about the way the club was railroaded into the AL. I'm not happy about the fact that 20% of the team's laughably meager payroll is being spent on Wandy Rodriguez to pitch in Pittsburgh. I'm not happy with the fact that the new owner appears to be a giant asshat who shoots his mouth off at every possible opportunity. I'm not happy with the way the radio team was dismissed, nor with Jim Deshaies' departure from the TV booth (but I'm happy for him – JD will shine on the national stage that WGN provides). And if I still lived in Texas, I'd be very unhappy with the way the whole television thing has been bungled from start to finish. (Seriously – every one with cable in Houston will be able to watch every Rangers game this season while 60% OF HOUSTONIANS WILL NOT BE ABLE TO WATCH THE ASTROS AT ALL. How do you screw something up so badly that you're not even the most televised team in your own city?)
But I still love baseball and the Astros. So I'll watch this year from afar and hope there's some signs of improvement by the end of the season.
2013 season predictions
AL West: Angels
AL Central: Tigers
AL East: Blue Jays
AL Wildcards: Rays, Rangers
NL West: Giants
NL Central: Reds
NL East: Phillies
NL Wildcards: Nationals, Dodgers
I refuse to make postseason predictions at this point, because there's a pretty good chance I'm totally wrong on all ten picks above.