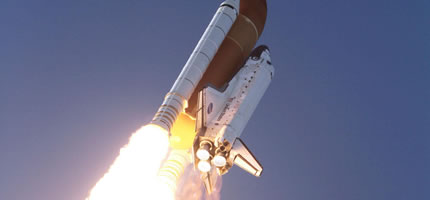 I can't believe it, but it's been exactly a year since I stood between the countdown clock and the turning basin and watched Discovery lift off for the final time.
A year later, as Discovery prepares to make it's way to the National Air and Space Museum, it's a good day to reflect on how the tweetup experience impacted me and those that I met the first time way back in October 2010. Between then and when Discovery finally lifted off 115 days later, I made a lot of new friends for life.
We really came from all walks of life – students, designers, engineers, pilots, teachers, media – and from around the globe. A lot of us were huge space enthusiasts, but not all. Some had been to many launches, others (like me) had never seen one in person. We were all at various stages of our lives – young, single, married, retired… we were an incredible mix of people and personalities.
And for about two weeks spread out over four months, we all pushed aside our daily lives and shared in an adventure together. We rented houses, threw a party or two, went stargazing on the beach in the wee hours, consumed mass quantities of barbeque, Gulf Coast seafood and pre-made sandwiches from Publix, and participated in more geeky fun shenanigans than most of you can even imagine. It was like being a kid again. A kid with a front row seat to history.
We're still a community today – if you need evidence of that, just follow the #STS133 tag on Twitter today. I'm sure a lot of us will be giving one another virtual hugs and sharing memories of the time we spent together. I still stay in touch with a number of the great people  I met during those two trips and even if we never met again in real life, I'll consider them all fast friends until the day I die.
Thanks for NASA for making it possible for us come together, and thanks to my friends for making it truly memorable.