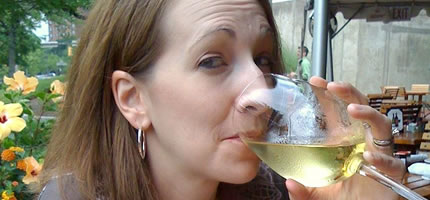 A thirty-something working mother who runs her own blog and somehow manages to put up with my incessant nonsense. She definitely could have done better than me, but fortunately doesn't seem to have realized it yet. The Wife and I actually knew each for a number of years before dating, since we grew up in the same town and worked at the same place during school, but it took us both going off to college to find one another.
The Wife vehemently denies that she is a soccer mom, despite the fact that she drives an SUV (the 21st Century mini-van), eats Lean Cuisine frozen meals for lunch, drinks wine in the evenings, scrapbooks and does, in fact, have a child that has played soccer.
The Wife has a completely useless degree in sociology and is enjoying a very successful career in an unrelated field. She's currently working on a master's degree, which leaves her very little time for nagging me about various things (but somehow she manages). Unlike me, she has no use for politics, sports, films with coherent plots or news from sources other than E! or People magazine.