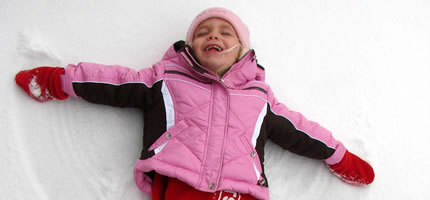 The most recent addition to our family is The Girl. In her four years on this earth, she's established herself as quite possibly the happiest child ever to have been born. She loves being the center of attention and will gladly bust open a big toothy grin for whoever or whatever might be pointed in her direction.
The Girl was a Texas-sized baby, weighing nearly ten pounds at birth. She's kind of slowed down in terms of growth since then and it appears that she might not end up being as tall as her mother and brother, but she's still a squat tower of power.
She is in many ways the polar opposite of her brother: opinionated, physical, fearless and incredibly outgoing. Fortunately, she's exactly like her brother in all the important ways: intelligent, funny, and loving. She's completely nuts and spends most of her waking hours making us laugh (while also making us very, very tired).
The Girl loves doing gymnastics, watching Dora the Explorer and Go! Diego, Go!, playing with her dolls, eating cheese-only pizza, and bossing other people around. She's the queen bee of every room she enters. Don't worry though, she's mostly harmless.