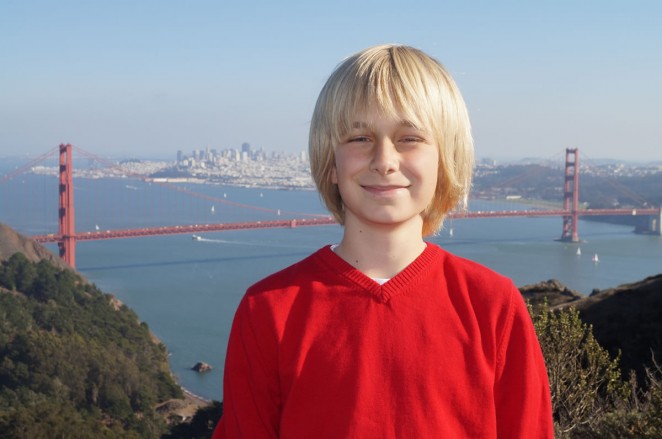 Our oldest child, The Boy is eleven and will be starting middle school in the fall (ZOMGWTFBBQ). He's a whiz at math, writing, reading, geography, crossword puzzles and just about anything else he puts his mind to. The Boy seems to be cursed with the same lack of physical prowess displayed by his parents, but he's given baseball, basketball, soccer, and gymnastics a try. He has an insatiable thirst for knowledge and is an all-around good kid. He tries very hard, pays attention for the most part and makes us very proud.
Born in Colorado, where he was the biggest baby they've ever seen, The Boy lived in Texas for most of his life until our move to San Francisco. Within days, he had the entire public transportation system memorized and can pretty much tell you how to get from anywhere to anywhere else in the city using a bus or light rail.
When not reading up on science trivia, geography or Pokemon, The Boy enjoys playing video games, eating ice cream, listening to Foo Fighters, watching House Hunters or Top Gear, and watching YouTube videos of other people playing video games. Seriously, I wish that last part wasn't true, but it is.