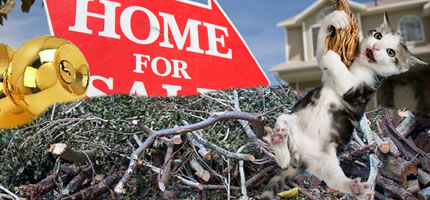 The last time we had to sell our home, it was a real nightmare. Our real estate agent was a lawyer doing it part-time on the side, we tried to sell too soon after buying, our initial buyer backed out the day before closing, yadda yadda yadda….
So The Wife and I were under no delusion that selling our house this time around would be easy or enjoyable. We both knew that it would probably take a while, we'd get less than our dream offer and the desired closing date would probably be all wrong for our schedule. I'm old enough to be okay with all of this now. It is what it is.
So far though, it's been going well enough. No one's bought the house yet, but we've had a good stream of people coming to look at it. It may still be a while before someone makes an offer, but I'm not stressing out about it at this point.
That's not to say, however, that the process has gone entirely smoothly thus far:
Open house
A few weeks ago, we had an open house on a Sunday afternoon. After busting our butts all day Saturday (more on that below) to get the house in perfect show condition, we left it in the hands of our real estate agent and waited.
Everything went great for about twenty minutes, then The Wife received a text from the realtor saying that someone had jammed the lock on our front door while he was trying to lock it.
This begs the question: WHAT KIND OF IDIOT LOCKS THE DOOR IN THE MIDDLE OF AN OPEN HOUSE? The kind that manages to jam the lock in the process, of course. Our realtor was still in the house. Why would you try to lock it? And how can you be so unfamiliar with the process of locking doors that you manage to screw up a perfectly functioning lock?
The realtor had to partially disassemble the lock so folks could get in/out for the remainder of the open house. I bet that looked real classy. Shockingly, we received no offers from people wanting to buy a house with a busted front door.
These are the people in your neighborhood
On the whole, our neighborhood is a nice one. People take care of their yards, don't have a lot of junky cars and generally behave in a manner conducive to maintaining property values. Except for the past month, of course. As soon as we planted the "for sale" sign in our yard, everyone went nuts.
We live on the end of a court, so we've got four or five houses which are close enough to be considered immediate neighbors. One of them has just decided to stop mowing their lawn completely. They're not out of town or anything, they've just given up yard maintenance for the summer apparently. And they've put an empty fertilizer bag on top of  a small trellis in front of their house. I don't even know what that's about.
One of the houses down the street had some college students living in it. Their lease ended last week and they moved out. They made sure to leave bags upon bags of trash in the driveway, which our city sanitation workers won't pick up because it's not in one of our special approved little green trash cans.
The lady next door figured out a neat trick to get out of edging her lawn – she just killed all of the grass lining her driveway and the perimeter of her yard. It looks like a baseball warning track lining her front yard, but instead of brown dirt, it's yellowish dead grass.
The folks on the other side of us have a really bad habit of setting out heavy trash for pickup on Thursdays. Why is that bad? Because our heavy trash day is Wednesday, meaning their junk sits out in front of their house for a full week before it disappears. And by "in front of their house," I really mean in front of my house, because they always set it at the end of the court.
I thought they had finally figured out when our street's heavy trash collection day was (or at least run out of junk to throw out), because they hadn't done it in a while. But then, a couple of days before our open house, they decided that they needed to clear out their backyard.
I came home on the Friday before our open house to find 73 metric tons of brush in my front yard (possibly a slight exaggeration, but only a slight one). Needless to say I was not pleased. Nor was I pleased when I had to spend the next morning loading it all up and making three trips out to our community's compost facility, which is conveniently located 20 miles away.
If only I had known someone would break our front door twenty minutes into the open house, I could have saved myself a lot of work.
Backyard drama
And then there's what happened this morning. Really, the whole thing can be summed up in three tweets from The Wife:
Can we please catch a break with this effing house sale? Today's lookers just called to say there is a KITTEN STUCK IN THE FENCE OMFG.

— nonsoccermom (@nonsoccermom) July 3, 2012
Don't worry, @modernishfather is on his way to rescue the kitten because they apparently could not.

— nonsoccermom (@nonsoccermom) July 3, 2012
STUCK KITTEN OMG.

— nonsoccermom (@nonsoccermom) July 3, 2012
Yep, that pretty much sums it up.
We do have a cat, but it's not a kitten. And it hasn't been outside since about 2006. So now the neighbors are obviously sneaking in our backyard after we go to work in the morning and planting helpless kittens on our fence.
Seriously though, I'm glad this happened today so the lookers could let us know about it. If the kitten had been left there all day, it probably wouldn't have made it. (They did, however, leave before I got there. I'm not sure if I could just leave a kitten hanging from a fence, even if it was in someone else's backyard. But maybe that's just me.)
When I got there, I could hear the little cat meowing his head off in the backyard. He had managed to get both of his right legs stuck between two boards about four feet up on our fence. He was desperately clinging on to the fence with his left paws, but he was having a rough time of it.
I donned some work gloves and after a few minutes of pulling at fence boards while getting a lot of tiny hisses and bites thrown my way, I liberated the little guy. I was able to give him a quick inspection before he bit my thumb one last time and wriggled out of my hands, and I'm guessing he'll be okay in the end.
Just another day when your house is on the market.