Launch!
Wow. Just wow. Yesterday was so incredible, I don't even really know where to start. My brain still hasn't really processed everything from yesterday yet.
One thing I do know, though, is that yesterday was a very long and tiring. I applied sunscreen generously throughout the day, but I've still got some sunburns and that general muscle-achiness that tells me that I got way too much sun. But it was definitely worth it.
Ready for the show to begin
We didn't have to be at the press site until noon, but our passes allowed us to enter the KSC starting at 10 a.m., so we arrived at approximately 10:01. Getting our there early allowed us to stake out a good spot for the cameras and commune with the area's usual inhabitants.
NASA was kind enough to provide us with some bleachers to watch all the action from (and more importantly, a recharging station for all of our devices), but our little group decided to stick with the lawn chairs we had brought from the beach house. We sat up shop right next to the Fox News crew and actually had a fair amount of interaction with them throughout the day.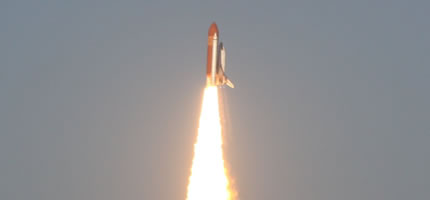 We were surprised to our old friend Robonaut 2 with a new set of wheels. The mobility unit is a prototype design for a platform that carry a number of different tools (including R2) for planetary surface exploration. The R2 team referred to this new configuration has his "centaur mode."
Soon, the press started showing up in droves, claiming their places on the hill and interviewing any old person they could find. They ranged the gamut from crusty old space veteran to 20-something talking heads who didn't know the first thing about manned space flight. There was also a very strong contingent of Japanese media folks. Overall, a very interesting mix of people.
As I was walking over to the NASA Snack Mobile (which is worthy of a blog post all by itself) to get some more water, I stumbled upon my old friend Miles O'Brien doing a live webcast. And with him was none other than Bill Nye the Science Guy! I went back and told the others, we did some stalking outside the tent and managed to get our pictures taken with him. That was pretty cool.
One of our housemates invested in a GigaPan and brought it out to the launch. He got some pretty nifty shots with it.
Even though they said they didn't have anything planned for us this time, NASA once again managed to do the impossible and get even more great speakers out to visit us. In addition to a demonstration of R2's new wheels, we heard from Chief Technologist Bobby Braun, ISS and shuttle astronaut Shannon Walker and two-time shuttle astronaut Leland Melvin (who told us the greatest space story I've ever heard, but swore us all to secrecy on it).
Around 1 p.m., we all walked over to waive to Discovery's crew as they drove out to the launch pad, which was pretty neat. And see that helicopter up there? Yeah, that guy hanging out of it was a sniper, just in case one of us tried to jump the rope or something. NASA doesn't mess around on launch day.
As the launch grew closer, two things started appearing around the complex in droves – NASA helicopters and astronauts. In fact, our little field turned into an astronaut convention. They were everywhere. Very cool.
Go time
Finally, after a full day of waiting, we headed back to our tripods and waited for the last 20 minutes of the countdown. There was a big scare at the last minute (well, technically with five minutes left) with a safety range warning. We all thought the launch was going to be scrubbed, but suddenly a huge roar came up from the crowd behind us and we knew were once again a go for launch.
The last 90 seconds before liftoff were exciting, chaotic and tense. We were actually between the clock and the pad, so we couldn't see that countdown and the last-minute delays threw off our internal sense of time. There's no countdown over a loudspeaker or anything like that. We had someone listening to NASA radio, yelling out the time left at roughly 20-second intervals. It was beyond crazy. I felt like I was in a movie.
At 4:53 p.m. EST, with only two seconds left in its launch window, Discovery lifted off for the 39th and final time:
It was incredible. I don't even know how to describe it. That video doesn't come anywhere near close to giving you the same sense as being out there and feeling the waves of sound actually hit you, the tension during the lag between ignition and when the shuttle finally clears the tower or the amazing sense of seeing something impossibly huge shoot straight up into the heavens.
After party
NASA estimated that 40,000 people were at the KSC itself for the launch – and that doesn't include the people just watching it on their own from Cocoa or Titusville. We were pretty much at the center of it all. So we were right in the middle of a traffic nightmare.
We stayed at the launch site for two hours, talking and relaxing. Then we hopped in our rental car and slowly crawled back to the beach house. It took us fifteen minutes to get to the press site in the morning. After the launch, we didn't get back until four hours after blastoff. Eegh.
So what do you do after witnessing a shuttle launch? Take a shower, grab some food and then go shoot lasers out over the beach. Or at least that's what we did.
I've shot a lot of video yesterday, but it'll be a while before I get it all edited. In the interim, you can take a look at all the photos I took.