I really should start packing
Less than 24 hours before I depart and I still haven't done any real packing. (Or imaginary packing for that matter.) I predict tonight will be a flurry of activity; something that doesn't jive well with my plan to go to bed early. Oh well.
I did, however, take two positive steps towards getting ready. I filled the car up with gas and bought snacks for the road trip. So I'm like 90% done with trip prep, right?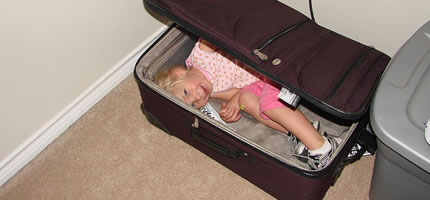 Yesterday afternoon, NASA sent out the e-mail we had all been waiting for: the one with the detailed AGENDA. (I put it in all caps because they did.) It looks like we're going to be in for a pretty awesome two days.
Among things we'll be doing:
I need to remember to pack long pants and closed, low-heeled shoes for the tour. And no tank tops. They were really adamant about that – in fact, they mentioned it twice in the e-mail. I guess that rules out my normal vacation attire.
15 minutes…
One of my friends IMed me Tuesday night to say they saw "the thing" about me on our local nightly newscast. That came as a shock to me, because I had no idea I'd be mentioned on the idiot box.
So I DVRed the late night repeat and, sure enough, I was mentioned as attending the launch and tweetup. Kinda weird to hear my name on television.
Good: The anchor nailed the pronunciation of my name, something that most folks find rather difficult for some reason (it's not that hard; people just don't put any effort into it).
Bad: They failed to mention that people could follow me on Twitter to find out about the event, which is kind of the whole point of the Tweetup. But, hey, it's a start.
Fries at the bottom of the bag
My friend Gwen is about to run in the NYC Marathon for the second year in a row and this time she's kicking it up a notch by recording her race with a head-mounted camera. Now that's geeky chic.
I'm becoming increasing disturbed by Steve Guttenberg's lack of a Twitter account. After this whole NASA shindig is done with, I intend to do something about it.
I'm amazed at how many people around town have suddenly become "lifelong" Ranger fans. I am still staunchly anti-Ranger.
The Girl has now successfully used the potty two days in a row at school. I claim total credit for that.